Our years of experience and knowledge have taught us that often, the smallest changes have the potential to make the greatest impact, which is why we love what we do.
Whether the goal is to enable someone to live safely in their own home, to maintain their dignity and independence, or just to give them a helping hand with everyday tasks, we design products that help to make life better.
Read on to find out about the little things we've been doing to make our fantastic products, even more effective…
NEW SmartCare Lever Care Accessory Kits
Not only does the AKW SmartCare Lever electric shower provide:
A contrasting, easy-to-use lever handle
Audible temperature control clicks
Matt, anti-glare finish
Rounded surfaces and edges
Thermostatic control
BEAB CARE certification
DSDC Dementia Design Accreditation
5-year warranty as standard*
It is also now available with care accessory kits to benefit users with a wider range of specific care needs.
*5-year warranty as standard if registered within 30 days of installation.
Standard Accessory Kit
1m chrome non load-bearing riser rail allows for quick and easy adjustment of the handset height
2m anti-kink, smooth hose that's simple to clean and ideal to aid with assisted bathing
Easy-adjust shower head with 3 spray modes
Hose retainer ring
Soap dish
Care Accessory Kit
150kg load-bearing grab riser rail for easy adjustment of handset height and extra support
Rail also available in dark blue/mid-grey as an optional extra, offering colour contrast to aid those with visual impairment and dementia
2m anti-kink, smooth hose that's simple to clean and ideal to aid with assisted bathing
Easy-adjust shower head with 3 modes
Integral hose retainer ring within soap dish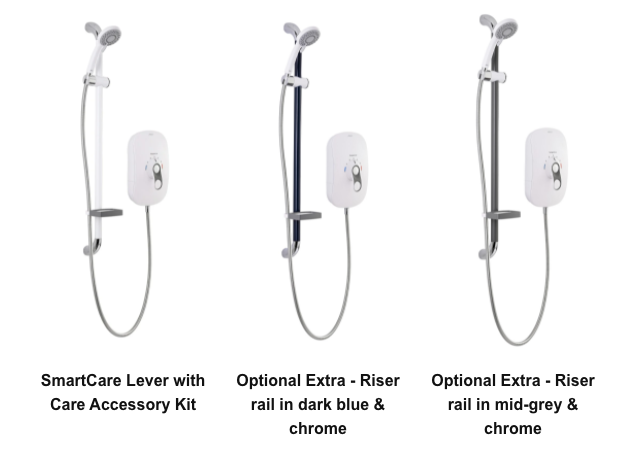 Easy Clean Shower Head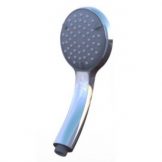 The AKW Easy Clean Shower Head has been designed for use when hygiene is the top priority, as it facilitates regular and efficient cleaning through its unique removable faceplates. The inside of the handset is hollow with no crevices or inner workings for bacteria to thrive. It's easy to remove faceplates also come in two colours to allow you to create cleaning cycles – particularly useful in care homes. Available as an optional extra and compatible with all AKW electric and mixer showers.
Onyx Shower Seat with Adjustable Leg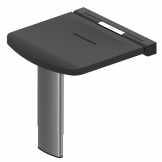 From our range of contemporary adapted solutions and accessories, comes a new version of the Onyx shower seat, now available with an adjustable leg. Offering a wider height range from 421-600mm, the seat provides greater flexibility when installing, as it can be set a height that best suits the user's needs. It also benefits from all the features of the original Onyx Shower Seat, including a soft-close function, stylish slimline design, and choice of two colours: black or white.
2021 AKW Red Catalogue!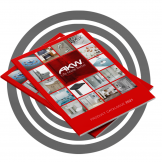 Download our 2021 Red Catalogue to find out about our most recent additions:
AKW Bidet
Marlbrook & Origins Wall Panels
AKW Safety Flooring